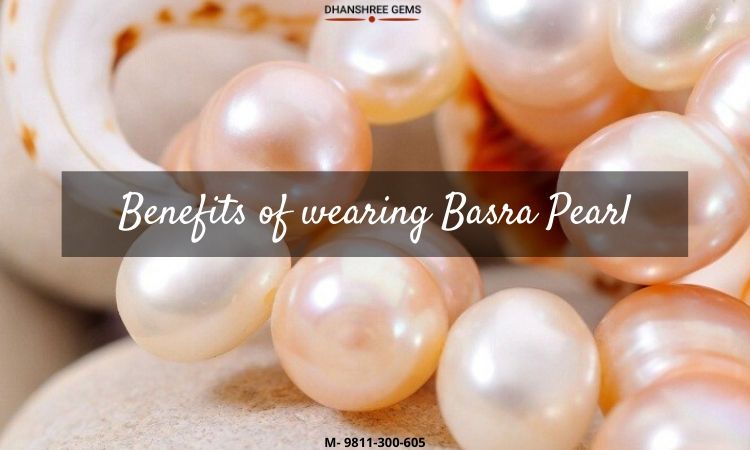 Basra Pearl is originated from the Basra region of the Persian Gulf and is considered as a highly precious variety of natural gemstones. The marine biological system of this area got exhausted in the mid-nineteenth century which made a stop in the normal pearl creation in the Basra district. Basra ka Moti has gained enough popularity due to its smooth surface and color which further expanded with its rarity. A Basra Pearl Gemstone is made out of calcium carbonate, which is released by a shellfish after it encounters an irritation.
Regular Pearl Gemstones, however inconsistently found, are seen as the most perfect of pearls. Basra pearls Gemstones are especially found in the Indian Ocean and are generally called Basra pearls. Finding a Basra Pearl Gemstone was very remarkable and incredibly inconvenient. The Basra Pearl Gemstone is noted for its light dispersing effects and its virtue. It's connected to the Zodiac sign Cancer. Wearing a pearl makes one regard his unique character and calms down one's emotions.
Properties of Basra Pearl:
Its chemical formula is CaCO3.
The colors of barsa pearl are white, pink, yellow, cream, silver, and brown.
It is fine in luster and it is has a bright transparent appearance.
The Mohs scale of Basra Pearl is 3.0.
Astrological benefits of Basra Pearl Stone
There are many pearl stone benefits. It is famous for healing activities.
Let us look at some of the astrological advantages of wearing this gemstone:
Pearlstone is suitable for people suffering from instability and indecision.
It also relieves depressed people and those with anxious minds.
The stone enhances the moon's power. It signifies a steady mind, family life, charming eyes, and softness.
This gemstone suits people who lose their temper and get angry in a quick time.
Wearing the stone strengthens the mind and reduces the evil effects of the moon.
Pearlstone also increases both memories as well as brainpower.
A person wearing pearl rings gains a lot of respect and fame in their life and comforts.
Pearl stone increases the facial lustre and enhances its beauty.
The stone is also worn with other rare gemstones to remove health-related issues.
It also increases the glow of a person and makes them look beautiful.
Basra Pearl (Moti) helps to reduce anger and attain peace.
It Provides empathy and love in the wearer's life.
It is called a "stone of reliability" as it symbolizes dignity.
It brings a peaceful environment at home and provides harmony.
Reap the personal benefits of wearing pearl stone rings:
Wearing pearls increases positivity, courage, and self-confidence. It also makes you accessible.
This gemstone is also known to make a person healthy.
Pearl gemstone also makes a person fortunate and balanced in their life.
Pearl stone benefits counselors, therapists, active speakers, and psychologists.
Difference b/w Basra Pearl & Normal Pearl:
Basra pearl stone is effectively distinguished from different pearls through its size, shape, and color.
Typical pearl stones are round in shape, however, it is in an unpredictable shape with a yellowish tint.
Basra Pearl Jewelry:
These days Basra Pearl is well known in the style world.
It's inserted in Rings, Bracelets, Heavy Necklace, Pendants, and Anklets, and so on.
Everybody wants to wear Basra pearl. The delightful shape, size, and shade of Basra pearl bid to everybody.
Pearl will never get outdated. Pearl gems certainly give you an enchanting and sparkling look with most of the outfits.
Astrological Facts about Basra Moti:
In Vedic Astrology Basra Pearl or Moti stone represents the Moon.
Moon indicates quiet love, quietness, love, and happiness like a mother.
It also helps in attaining peace of mind, serenity, honesty, knowledge, and the most profound sense of being and humility.
It can be considered very beneficial for the individual of the Cancer sun sign.
Wear pearl stone for a healthy life
Pearl is a common and famous gemstone that occurs in the ocean beds. It has astrological benefits and is also used by people as jewelry. Original pearl is shining, smooth, round, and a flawless stone. It has attractiveness and soft glamour that makes it look gorgeous and beautiful. The gemstone relates to the cancer zodiac sign and links with the planet moon. The stone originates in the Persian Gulf, Venezuela, and India.
The procedure of Wearing the Basra Pearl:
Pearl is a precious and fascinating gemstone so while wearing Basra Pearl some important points should be kept in mind:
Planet: Moon
Time: The first hour of the day (after sunrise)
Finger To Wear: Ring/Little
Day To Wear: Monday
Which Hand: Working Hand
Metal: Silver
Stone Weight: According to Body Weight
Mantra: "Aum Chandraya Nama"
Summary
The facts mentioned above are some pearl stone benefits. Apart from its astrological services, pearl stone is also worn in the form of jewelry. This gemstone is a common choice for many jewelry makers. They make pendants, rings, necklaces, or bracelets. You must contact an astrologer before wearing pearl items. It can also have some other effects apart from the health benefits.
Find if Pearl is suitable for you using our Free Gemstone Recommendation Tool