Are you wondering what you should gift your partner this Valentine's Day that screams love? Or are you looking for some self-pampering in the month of love?
Your search ends here because Dhanshree Gems has the perfect gift for you.
Browse through our exquisite collection of gorgeous gemstones for love, that are perfect for communicating your feelings and making yourself feel special.
Since ancient times, people have believed in the power of gemstones to attract love and healthy relationships in their life. It allows people to move over all hurdles that delay the process of meeting with their partners and healthy friendships and even reduces the tendency of self-sabotage. There is a widespread belief that wearing love crystal pendants close to your heart can help raise your vibrational frequency to attract people who love, care, and respect you.
If you are looking to:
Reignite the spark in your relationship
Reduce marital stress
Learning to love yourself after a breakup
and improve compatibility with those you are close to
Our collection of gemstones for love can be your savior.
The following three crystals are known to work on the heart chakra and attract passion:
Three Gemstones for Love That is Perfect Gift For Your Loved Ones
Ruby Stone - Best Gemstone for Love
In the crystal universe, Ruby Stone is the king of love. Its mesmerizing pigeon-blood-red color is a treat for sore eyes and embodies love, passion, and sensuality.
The benefits of Ruby in love are as follows:
Ruby gemstone opens your heart to receive more love, which is deep and meaningful.
It energizes the wearer and benefits in improving the physical intimacy of the relationship.
It stimulates the heart and raises vibrational frequency to attract love.
Ruby stone also helps underconfident and self-conscious people to open up and express their feelings confidently.
Those who go through emotional turmoil after a painful breakup can use ruby to find solace and comfort and regain their mojo rapidly.
People who often get into conflicts with their partners, friends, or parents can benefit from a ruby ring. It helps people to be calm and composed, resulting in easy resolutions.
If you struggle with self-doubts and constantly criticize yourself, ruby can help you begin to love yourself and become aware of your strengths. It allows you to rediscover your passion and be confident in your skin.
Rose Quartz
The beautiful pink rose quartz is also known as "Heart Stone". This name indicates its importance in helping the wearer manifest the love of their life easily. You can meditate with the stone, allowing your heart chakra to open up and making your life ripe to receive emotional abundance.
Some benefits of rose quartz crystal for relationships are as follows:
If you are witnessing slight discord or miscommunication in the family, rose quartz can be a perfect addition to bring stability and calm.
It assists in the emotional healing of the wearer and helps them overcome the pain from old wounds and move on to be at ease with the present.
Rose quartz crystal is the best form of self-pampering and allows you to adore yourself. It improves confidence and makes the world around you notice your presence.
It brings balance to the heart and mind of the wearer and makes them more compassionate.
Rose quartz benefits by making the wearer more optimistic and wards off negative thoughts.
Moonstone
Moonstone is an embodiment of divinity. It can help the wearers usher love and warmth towards every relationship of life. Some key benefits of moonstone in matters of love are as follows: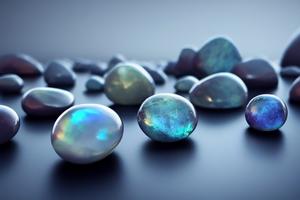 In India, people always regarded the moonstone as a pure symbol of love. Many consider it a lucky charm for attracting love. Unmarried girls often wear it to meet a worthy suitor.
Moonstone is a perfect addition for impulsive and emotionally vulnerable/shut-off people. Some people get swayed by their emotions and give entry to the wrong people in their life.
Over-emotional people struggle with self-confidence as one failure can be a breeding ground for self-sabotage. Emotionally shut-off people refuse to be vulnerable. It provokes many people to leave their life.
Women who wear moonstones feel more energized and synchronized with their inner selves.
Couples who struggle with physical intimacy can benefit from the immense power of the moonstone, which helps them bring back the lost spark in their relationship.
It brings serenity and balance to the wearer's mind, which helps sort out conflicts between partners and restores harmony.
Pregnant women who wear the moonstone develop a deep and pure bond with their children.
Why should you choose Dhanshree Gems?
Choosing the correct stone for your relationships is crucial. A good piece of jewelry has the ability to make anyone feel unique and special. Dhanshree Gems offers a wide range of gemstones for love, with multiple pricing options to suit your budget. Our offerings come with an authenticity certification and promise of making your gemstone shopping experience delightful and the person who receives your gift satisfied and happy.
Dhanshree Gems is the solution if you are looking to get the right gemstone for yourself. We offer free gemstone recommendations as well, so you always have your planets by your side.
Frequently Asked Questions
Which stone represents love?
Red ruby, Rose quartz, and moonstone are the top three depictions of true love, warmth, and compassion. They can heal every relationship and stabilize the wearer's emotional state.
Which crystals are the best for a wedding gift?
You can commemorate a couple's special day with beautiful wedding crystals that symbolize love and eternity. Rose Quartz, Ruby, Red Jasper, and Emerald are elegant and powerful choices for a wedding gift.
Which crystals should one wear for love marriage?
There is nothing better than marrying someone who knows you inside out, respects you, and stays loyal to you. You can attract the love of your life by wearing rose quartz, jade, green emerald, or ruby.
Will gemstones for love help in attracting my ideal partner?
Stones for relationships open up your heart chakra and remove blockades that are either self-imposed, like low confidence and hesitancy or are involuntarily a part of life. It frees the path for the person who is your perfect partner for you to find you.