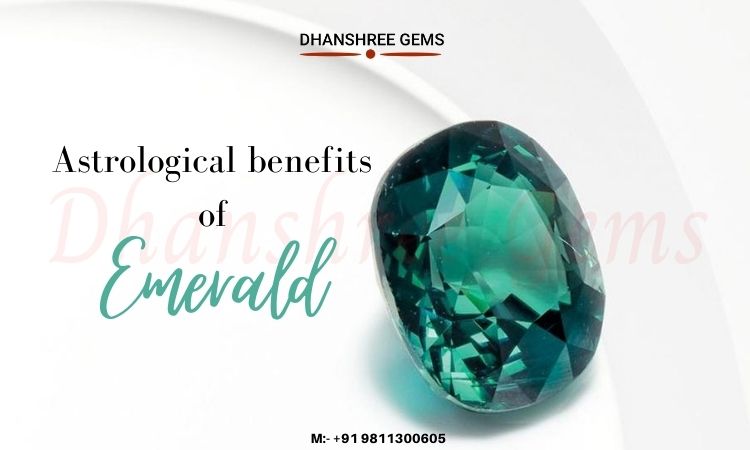 Nobody can escape from the evil effects of malefic planets but the gemstones are the perfect cure for it. Today, you will get to know more about Emerald gemstone which can take all of your problems. Yes, the Emerald gemstone was translated from Sanskrit's word Marakata. This Sanskrit word means "The Green of Growing Things". And there is no lie that Emerald stone will make your life greener and will help you in growing.
You will get the unknown benefits of Natural Emerald Gemstone when the stone will become a part of your life.
It is said that this amazing gemstone brings wisdom and love. And people are advised to buy 100% original Emerald stone for the astrological benefits.
Emerald stone is the gemstone of planet Mercury/Budh Grah which symbolizes power, wisdom, intellectuality, sharp memory and confidence.
As per the Indian astrology, Emerald gemstone will show the beneficial side when Mercury places at the right position in their birth charts.
Emerald gemstone is the symbol of good fortune, generosity and love.
Emerald stone increases your wealth and happiness also reduces the possibilities of snake bites.
Buy Emerald gemstone online in India. To get the desired results go for govt. lab certified Emerald gemstone.
Emerald Birthstone:
The gemstone Emerald is considered the birthstone of people who born in month May.
This stone can give ample of benefits to the natives of May. A green colour beautiful stone is for you.
In short, you are born in a month which has a magical and marvelous gemstone for its people.
Emerald stone zodiac:
Emerald gemstone is ruled by the planet Mercury.
People who are born under Gemini and Virgo zodiac sign are suggested to wear Emerald gemstone.
If a person is born amidst 21 May to 20 June and 21 August to 20 September then Emerald Gemstone can be worn.
It will not give you any harm if you were born under Taurus, Virgo, Libra and Gemini Zodiac signs.
The ascendants of these zodiacs should consult an astrologer and then wear this beautiful green gemstone.
Know the Astrological benefits of Emerald Stone:
The astrologer advices Emerald stone to the pregnant women who will go through labor pain. Panna stone makes the labor easy for both mother & infant without any loss.
To regulate your blood circulation and for reducing mental stress, Emerald Gemstone is your perfect solution.

People who are politician, orators or businessman then Emerald stone should be worn by you for good happenings.

Emerald gemstone or Budh Ratna can give you desired results in competitive exams and also in trade market.

Budh Mani enhances the intellectual power, analytical and memory of the wearer.

Emerald stone is also considered lucky gemstone for love life. If you gift this magical gemstone to your partner then he/she will be faithful rest of the life.

Emerald stone is suggested for musicians, writers, auditors, bankers, judges and govt. officers. People with these professions will get numerous opportunities.

Also, if you are having a travel agency or publishing house, textile business then Emerald gemstone is definitely for you. It will shower you wealth and success.

It is believed that who wears Budh Mani gets a successful and blissful marriage life. Emerald stone develops understanding among the kids and entire family.

People who spend lot money and are not able to save it for their future are suggested to wear Emerald stone. As it helps in holding your wealth and saves your extra expenses.

Kids with low IQ who struggle lot during their studies and do not obtain good marks in exam. Start wearing this stone as it will increase your concentration and focus while study.

The positive energies of this stone can make your more spiritual and patient.

Negative energies and evil impacts go away due to Emerald stone. It enhances calmness and freshness which keeps you ready to perform extraordinary.

Are you looking for a promotion in your job then must wear Emerald stone.

Emerald gemstone has mesmerizing power if you want to turn your business into another level.

Emerald stone is also beneficial if a person who has brain related diseases such as tumor & memory loss.

People with stammering or speaking problems should give a try to this magical green emerald stone to get rid of speaking problems.

Emerald stone is suggested for those who have been cheated by someone because this stone makes people more faithful towards you.

It is believed that green emerald has such magical power to bring good fortune and luck to the wearer.

Many health problems such as cardiac problems, asthma, insomnia and ulcer can be cured by wearing this miraculous stone.

Gastrointestinal issues including gastric, diarrhea & dysentery can be treated by Emerald gemstone.


People who are working in a real estate business, publication house, teaching and astrological field are highly advised to start wearing this gem to become more successful in your life.
Emerald Gemstone for Mahadasha & Antardasha:
The marvelous gemstone should be worn when the planet Mercury takes place at a malefic position in your horoscope. Emerald gemstone will give you extraordinary power and energies to enlist positivity of planet Mercury.
It will give you the beneficial results which have refrained due to Mahadasha of Mercury.
The negative Dasha of malefic positions can be neutralized after wearing Emerald gemstone.
If the planet Mercury is placed in the 6th, 12th and 8th house in your horoscope then only Emerald stone can save you.
Hence, if any individual is facing tough times such as Mahadasha & Antardasha in his/her life then without thinking start wearing Emerald gemstone.
Find if Emerald Stone is suitable for you using our Free Gemstone Recommendation Tool.